lap for professionals_collapsable menu_banner_WC
Banner-Dynamic-Scroll-CockpitMenu_LAP
Loan Against Property for Pensioners Overview_WC
Loan Against Property for Pensioners: Overview
With Loans Against Property for pensioners, senior citizens can easily avail of funds to meet a variety of needs, without any restrictions. They can utilize the funds to meet medical expenses, or any other financial needs at relatively low interest rates.
Loan Against Property for Pensioners Features and Benefits_WC
Loan Against Property for Pensioners: Features and Benefits

Simple Eligibility Criteria
Fulfil our easy-to-meet Loan Against Property eligibility criteria and avail of a sizeable amount with a flexible tenor. We ask for minimal documents to facilitate a fast approval process.

Quick Approval and Disbursal
Applying for this loan is hassle-free and seamless. Following a speedy approval process, eligible applicants can get the money disbursed into their account in 72 hours* ,once their profile and documents have been verified successfully.

Flexible Repayment Tenor
Manage your monthly expenses with ease by benefitting from a repayment tenor that can be extended up to 18 years, basis eligibility.

Doorstep Service
When you apply for a Bajaj Housing Finance Loan Against Property, you enjoy a convenient doorstep document collection service, to speed up your approval process.
Loan Against Property for Pensioners How to Apply_WC
Loan Against Property for Pensioners: How to Apply
Follow the steps mentioned below to avail of a Loan Against Property from Bajaj Housing Finance.
Open the application form on our website
Fill the relevant personal and income details such as your name, mobile number, date of birth, PAN details, property location and other information that is request
Once you have successfully submitted the details, our representative will get in touch and help you with the further steps.
*Terms and conditions apply
Loan Against Property for Pensioners_RelatedArticles_WC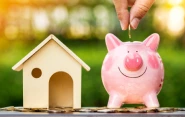 99 6 min
Loan Against Property For Pensioners_PAC_WC
LAP for Pensioners-Quick Links_WC