Board of Directors_collapse_Banner
Banner-Dynamic-Scroll-CockpitMenu_Genericpage
CorporateBoardDirectorsNew_WC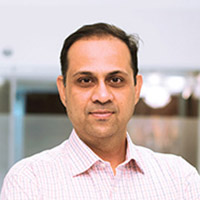 Sanjiv Bajaj
Chairman and MD Bajaj Finserv: Bajaj Finserv operates in the insurance business through Bajaj Allianz Life Insurance Company Limited and Bajaj Allianz General Insurance Company Limited, as well as in the lending business through Bajaj Finance Limited. His role includes guiding the current businesses and building new ones in the financial services space. He has been Managing Director since 2008 and recently in 2020 has also become Chairman.
Chairman of Bajaj Allianz Life Insurance Company and Bajaj Allianz General Insurance Company with effect from 01-04-2013. He was a Non-Executive Director of these two companies from their inception in 2001 up to 31 March 2013.
Managing Director of Bajaj Holdings & Investment Limited with effect from 01-04-2012 (earlier its Non-Executive Director). His role includes building the strategy and team, and guiding this investment company, which has almost Rs. 60,000 crore in cash and investments including over 30% stake in Bajaj Auto and around 40% in Bajaj Finserv
Memberships
President of the Confederation of Indian Industry (CII) for 2022-23. Sanjiv has been engaged with CII for many years at the State, Regional, and National level. He was the President-Designate of CII for 2021-22 and the Chairman of the Western Region during 2019-20.
International Advisory Board (IAB), Allianz SE
International Technology Advisory Panel (ITAP) of Monetary Authority of Singapore (MAS).
Sanjiv Bajaj was elected as Chairman of Western Region of CII (Confederation of Indian Industry)
Member of the Insurance Advisory Committee of IRDAI since August 2019
Member of Regional Stewardship Board for India and South Asia 2019-2020 of World Economic Forum
Awards
Financial Express Best banks Award: Banker of the year 2019
All India Management Association (AIMA) Managing India Awards – Entrepreneur of the Year award 2019
Economic Times – Business Leader of the year India 2018, the most prestigious business awards in india.
Asian Centre's Leadership, Corporate Governance, Sustainability & CSR Awards - Transformational Leader Award (Large Cap Category) 2018
Ernst & Young - EY Entrepreneur of the Year, India 2017
India Today – Top 50 Power List 2017-18
Bombay Management Association (BMA) - Entrepreneur of the Year Award 2015-16
Business World - India's Most Valuable CEOs in 2015 & 2016
His major directorships are as under:
Bajaj Allianz General Insurance Company Limited

Bajaj Allianz Life Insurance Company Limited

Bajaj Auto Limited

Bajaj Auto Holdings Limited

Bajaj Finserv Limited

Bajaj Finance Limited

Bajaj Holdings & Investment Limited

Maharashtra Scooters Limited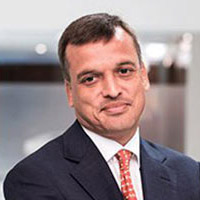 Rajeev Jain
The cumulative experience at GE, American Express and AIG has helped him change the course of the company and put it on a high growth path. Rajeev was earlier with American International Group as a Deputy CEO of its Consumer Finance business. At AIG, he was responsible for building the strategic framework for AIG Consumer business entry in India, created a holding company and acquired two non-banking finance companies to establish a base for AIG in the Indian market.
Before that, he was with American Express where he spent more than eight years. During this period he did various roles across various products like credit cards, personal and business loans etc. At the time of leaving American Express, he was the Head of Personal and Small Business Lending in India. Rajeev is a Management graduate from T A Pai Management Institute, Manipal with a Bachelor's Degree in Commerce.
LIST OF DIRECTORSHIPS:
Bajaj Finance Limited

Bajaj Housing Finance Limited (Formerly Bajaj Financial Solutions Limited)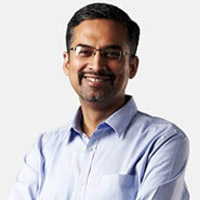 Atul Jain
He started his career in Investment Banking and later moved to retail finance. He was at the helm of the Collections team over 11 years at BFL as Chief Collection Officer, 4 years as President- Rural Lending & Collections and 2 years as Enterprise Risk Officer for Bajaj Finance Limited.
He is an MBA in Finance and has over 30 years of rich work experience in the financial sector.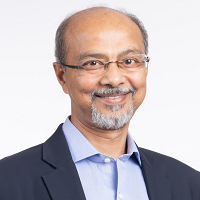 Dr. Arindam Kumar Bhattacharya
Dr. Arindam Kumar Bhattacharya, Independent Director, investor, and Senior Advisor to BCG from where he retired as Senior Partner and Managing Director. In BCG he held many leadership roles and was a co-leader and founder of Bruce Henderson Institute, BCG's thought leadership institution. He headed BCG India, leading BCG's operations in the country for about six years. He was a member of global leadership team of the Global Advantage practice and was earlier member of the global leadership teams of Industrial Goods, Public Sector and Social Impact practices and founder and co-leader of BCG's Global Advantage Practice. As a BCG Fellow he has focused his research on Globalization and has and has authored two books Globality– Competing with Everyone from Everywhere for Everything, and Beyond Great – Nine Strategies for Thriving in an Era of Social Tension, Economic Nationalism and Technological Revolution, and numerous articles on the subject.
Starting his career with the Eicher Group in India as a graduate engineer trainee, Dr. Bhattacharya has over 30 years of experience in the industry and consulting with focus on the industrial sector. In recent years he has led the BCG's growing engagement with Central and State Governments on both economic and on social sector topics like education and health, and consulted with organizations like World Food Programme, Save the Children, Gates Foundation and World Bank.
Dr Bhattacharya is a past member of National Council of Confederation of Indian Industry and has co-chaired CII's National Manufacturing Council. He is a member of the International Advisory Boards of Oxford India Center of Sustainable Development, Oxford University, the School of Global Policy and Strategy, University of California, San Diego, and Munjal School for Global Manufacturing at the Indian School of Business. He is on board of Lemon Tree Hotels and WISH Foundation, India's biggest Public Health NGO.
Dr. Bhattacharya was educated at the Indian Institute of Technology, Kharagpur, Indian Institute of Management, Ahmedabad, and Warwick Manufacturing Group, University of Warwick, UK where he completed his MSc in Manufacturing Systems and Doctorate of Engineering.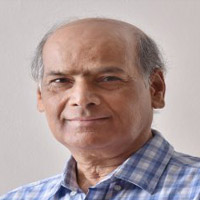 Shri Anami N Roy
While with Government of India, he headed the operations of the elite Special Protection Group, looking after proximate security of Prime Minister, former Prime Ministers and their families, in which capacity he travelled extensively within India and overseas and interacted with the forces and governments of many foreign countries around the world.
Known popularly as the People's Commissioner, he set up many citizen-friendly schemes and systems to resolve and fulfill people's problems and expectations like Citizen Facilitation Centres in Police Commissioner's office and later in all police stations where all requirements of people from police were dealt with in a transparent, time-bound and hassle-free manner, Mumbai Police Infoline for giving all information from and about Police through a toll-free number, Elderline for senior citizens, Slum Police Panchayat, etc.
He was appointed as an Advisor to the Governor of Andhra Pradesh when the state was under President's rule in 2014. He also dealt with the separation of Andhra-Pradesh in two states - Andhra Pradesh and Telangana and supervised the General Elections of 2014 in both states.
Post retirement, has been engaged in the social/non-profit sector. He runs a not-for-profit company Vandana Foundation under section 8 of the Companies Act, 2013 for supporting people at the bottom of the pyramid with livelihood.
He is on the Board of many prominent companies. He is also involved in many other companies in advisory capacity. He brings with him a wide and rich experience of public service, functioning of governments at the state and central level.
His major directorships are as under:
Bajaj Auto Ltd.

Bajaj Finance Ltd.

Bajaj Finserv Ltd.

Bajaj Holdings & Investment Ltd.

Glaxosmithkline Pharmaceuticals Ltd.

Finolex Industries Limited